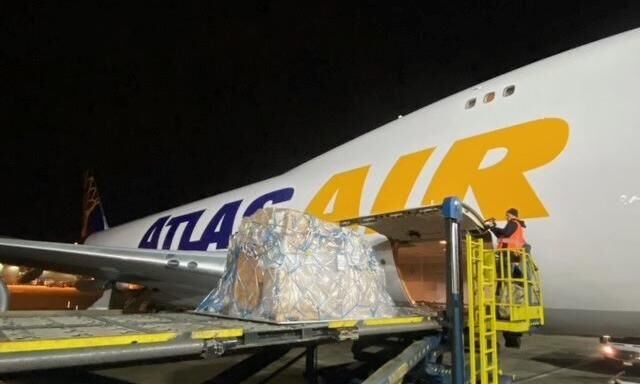 Following a request for medical supplies from Moldovan authorities, World Hope International (WHI), Lift Non-Profit Logistics, Globus Relief, Airlink and Flexport.org have teamed up to transport $7 million in humanitarian aid to more than 300,000 Ukrainian refugees.
"Supplies were moved from Utah and flown in via a Boeing 747 from Chicago to Amsterdam where Flexport.org then arranged for trucking partners to transport the cargo to Moldova. Responding to the Moldovan authorities' request for assistance required multi-faceted project coordination and experience in managing complex supply chains. This relief effort required specialized skills to source the requested supplies and transport them from Utah to Moldova via Chicago and Amsterdam."
"In these difficult times, Moldova is helping Ukrainian refugees with needed shelter and assistance," said Eugen Caras, Moldova's Ambassador to the United States. "In this context, we greatly appreciate the efforts that our American friends have made to gather an impressive amount of medical supplies. This support will be used and distributed by the Ministry of Health for Ukrainian refugees in Moldova, and we are very grateful for this. .
"Airlink is thrilled to be part of this coalition of organizations that are using their resources and expertise to provide humanitarian assistance to Moldova for Ukrainian refugees," said Steven J. Smith, President and CEO of Air link. "There are significant and growing supply chain challenges in the region, so partnership and coordination are essential to ensure that Ukrainian refugees receive the assistance they need."
Shaimaa Al Wassiti, President of Globus Relief Humanitarian, added: "Globus Relief is equipped to meet the needs of all forms of medical care. are used in first response medical care."
"The events unfolding in Ukraine and the escalation of violence in the region are beyond tragic on so many levels – and are quickly becoming one of the biggest refugee events of our lifetimes," said John Lyon, CEO from WHI. "As we look for ways to scale up our support, we hope this week's effort will have a big impact on those receiving these essential supplies."
Susy Schöneberg, head of Flexport.org, said, "Humanitarian responses are incredibly complex and require a wide range of coordination from nonprofit organizations. By providing robust air cargo solutions and financial support, we aim to help our nonprofit partners focus on what they do best and respond immediately when disaster strikes."
The partnership provided over 220,000 pounds of medical supplies to meet a need specifically requested by Moldova's Ministry of Health.