Medical Supply Company Sees Efficiency in Switching to Solar Power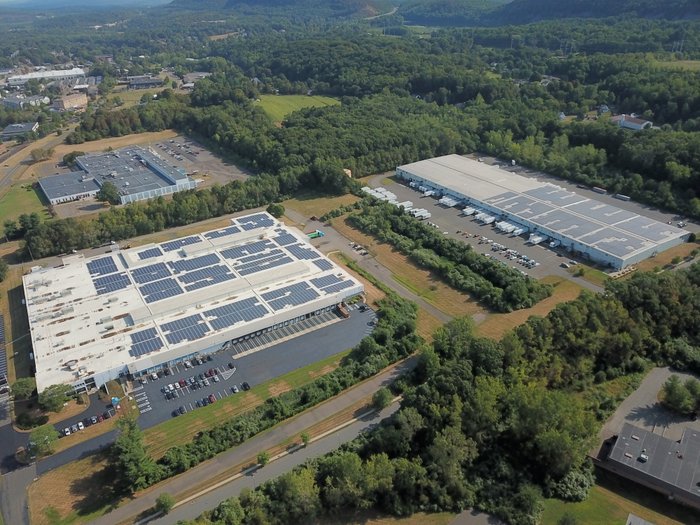 Energy is imperative to provide and improve high-demand medical supplies. For a crucial and busy manufacturing facility like Medline Industries, these energy costs can represent a large portion of the overhead and without a way to offset electricity consumption, high utility bills prevent factories from growing, producing at full capacity and maximize savings.
Sky Power successfully offered a PPA to its tenant, Medline Industries, to own, operate and maintain the new rooftop solar system. Sky Power will sell the majority of the energy generated to Medline at a fixed price for the duration of their rental.
System Details: As the world's largest manufacturer and private distributor of medical and surgical supplies, Medline needed a more efficient way to handle the high energy demands of its Connecticut facility, which operates six days a week. In addition, they had to meet the organization's sustainability goals, including removing harmful carbon emissions from the local community.
As one of the largest commercial solar projects in Eversource's distribution system, Sky's PV plant will offset more than half of the Medline facility's annual electricity consumption. The project produces approximately 1,578,430 kWh of clean, renewable electricity per year and will significantly reduce utility costs for Medline.
Sky Power has selected a SolarEdge intelligent energy system to ensure maximum power and safety.
"We chose SolarEdge to supply the inverters and power optimizers for this project for several reasons. First, its advanced technology produces more electricity in cloudy regions, such as the northeast, due to superior design and increased power output by following the maximum power point of each module. In addition, the use of reliable and NEC 2017 compliant products from SolarEdge results in a safer system with rapid shutdown and higher system availability. Alex Dembitzer, Founder, SkyREM, LLC and Sky Power, LLC
By using SolarEdge Synergy inverters and power optimizers, Medline is expected to save an additional $ 136,800 on its electricity bill over 20 years. Medline will reorient its operational economies towards its bottom line, its people and its expanding production lines.
Implementation: To implement the SolarEdge PV system, Sky turned to its long-time partner, Evergreen Energy. For Evergreen Energy, SolarEdge's module-level monitoring capability is critical to maximizing energy production for their customers, while reducing O&M costs through remote troubleshooting. SolarEdge's Maximum Power Point Tracking (MPPT) technology ensures that each module is producing at its maximum energy. This eliminates the power losses associated with mismatches and increases the energy efficiency of the entire system.
"Evergreen promotes SolarEdge to all of its customers. We are constantly seeing the benefits of tracking business projects down to each panel. When using traditional string inverters, troubleshooting an underperforming site can be a nightmare. Additionally, we have seen the long term effects of power optimizers as our SolarEdge sites continue to outperform. Jacob Sussman, COO, Evergreen Energy
"The Sky Power team managed the installation of our solar system efficiently and professionally. It is clear that Sky Power is passionate about renewable energy and provides a positive experience for its customers. Solar energy is both financially and environmentally important to our business. Says Robert Rotaru, Director, Engineering, Medline Industries
SolarEdge ensures project safety by complying with the latest NEC 2017 requirements for Arc Fault Protection (AFCI) and PV Rapid Shutdown System (PVRSS). The entire system comes with a built-in Safe DC function designed to automatically reduce the voltage to a safe level, providing protection for the installation team and maintenance personnel.
Using renewable energy resources is only part of Medline's path to a better and environmentally responsible future. Not only will this system allow them to manufacture more PPE, surgical and vital healthcare equipment during an ongoing pandemic like COVID-19, but it will also help make a meaningful and positive difference for customers, staff. and surrounding communities.
Keywords: commercial, Connecticut, Evergreen Energy, Eversource, Medline Industries, Sky Power, SolarEdge